To access CSL Wifi, you must:
For HKU Portal account created before 5 June 2009, register to enable CSL Wifi access by login HKU Portal > Campus Information Services > Central IT Services > Register to use WiFi service.
For HKU Portal account created on or after 5 June 2009, no registration is required.
Please note that the following procedure is based on BlackBerry 9000.
B. Configuration Procedure for BlackBerry (To be done once only)
From the standby screen, press the BlackBerry button to open the main menu
Select Manage Connection
Turn Wi-Fi to On
Select Set Up Wi-Fi Network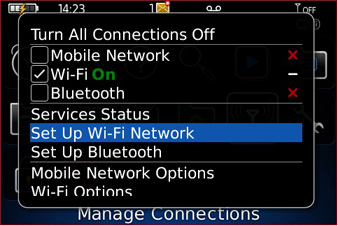 Click Next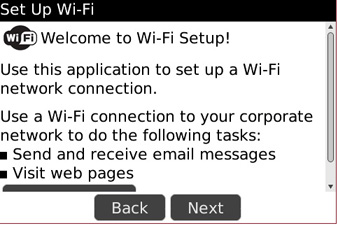 Click Scan for Networks
Wait a moment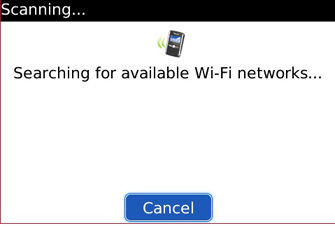 Select Universities via CSL
Enter the settings as follows:


Security type:
PEAP
CA Certificate:
GeoTrust Global CA
Inner link security:
EAP-MS-CHAP v2
User name:
[For Staff] HKU Portal UID in the form of HKUPortalUID@hku.hk
[For Student] HKU Portal UID in the form of HKUPortalUID@connect.hku.hk
User password:
HKUPortal PIN
Server Subject / Server San:
leave blank

Click Connect
Enter the Profile name as Universities via CSL (case-sensitive)
Click Finish
BlackBerry should now connect to Universities via CSL
If failed, try the following procedures:

Install Blackberry desktop manager for your platform (PC or MAC)
Connect the device with USB cable.
In Blackberry desktop manager, click Certificates
Choose Intermediate
In Certificate label, check GeoTrust DV SSL CA to enable the certificate
Press Sync
Since HKU Portal UID and PIN are employed to login at Universities via CSL, as a better password security measure, you would be asked to change your HKU Portal PIN if you have not changed it for six months.