* Note: The Recall Sent Message feature allows you to recall, replace, or delete messages that you have sent. The feature is available in MS Outlook only.
Open Outlook, locate the Sent Items folder, and double click to open the message that you want to recall.
Select Actions from the menu, and select Recall This Message…
In the Recall This message window,
Select Delete unread copies of this message to recall message, or
Select Delete unread copies and replace with a new message to replace the original message with a new one.
If you want to receive notification of the recall result, check Tell me if recall succeeds or fails for each recipient.
Click OK to confirm recalling the message.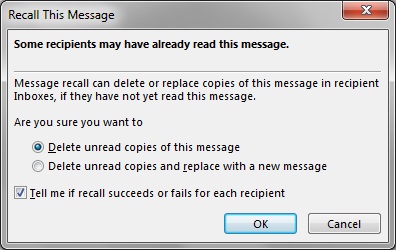 Note: If on the Actions menu, you select Resent this Message instead of Recall this Message – the actions will be: if the first original message has not been read, then the resent-email-message will be shown in the recipient's Outlook inbox in place of the original sent-email-message.
If the recall is successful, Outlook will send you Message Recall Success message. Otherwise, you will receive Message Recall Failure message.

The message recall is not successful if any of the following conditions is true:
The recipient is not using Outlook.
The recipient has read the message, or the message is marked as read.
The original message is moved from the recipient's Inbox. This can occur when rules are used.