You can delete mail without saving them to Trash folder as follows:
"Settings" -> "Preference" tab -> "Server Settings" -> "Main Options" -> check Flag the message for deletion instead of delete -> Save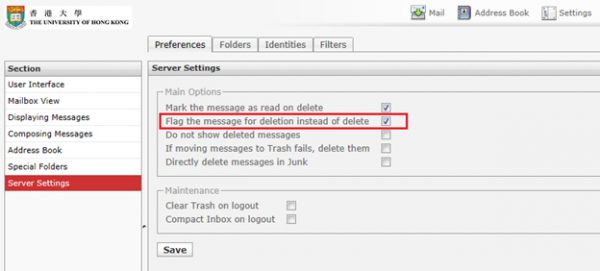 After applying the above setting, your deleted message will be marked deleted.  Deleted messages will be displayed in grey color with 
icon. You can click the 
icon to undelete a message.
To purge deleted messages, you can check the option "Compact Inbox on logout" so that the system will automatically purge the deleted messages when you logout. Beisdes, if you want to purge deleted messages manually, you can perform one of the following actions:
Click  button at the left bottom corner and select Compact; or
Right click the selected folder, select Compact.

Please keep the Trash folder empty or compact deleted message regularly to prevent your mailbox getting full. By default, there is no automatic purging of deleted messages.